Factice is used as a processing aid.
It prevents compounds from tackiness and shrinkage, and also modifies properties of products.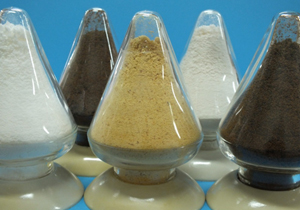 Utilities
As a processing aid
Reduces tackiness of compounds during roll operations.
Improves processability and shorten mixing time.
Gives dimensional stability and smooth surface to compounds.
Reduces die swell and calender shrinkage, and makes extrusion and injection time shorter.
As a softener and a dry plasticizer
Is useful to make low-hardness rubber products by adding a large amount.
Absorbs liquid plasticizers and oils and prevents blooming.
Improves oil and solvent resistance.
Others
Gives smooth surface and good appearance of the product.
Improves ozone resistance and electric insulation, so prolongs the product lifetime.
Gives good abradability to the product and shortens grinding process time.
> TOP
Uses
Industrial rubber products
belts, hoses, tubes, antivibration products, rolls, blankets, plates, seal products, rubber-coated electric wires, rubber sponges
Other rubber products
boots and shoes, rubber-coated fabrics, gloves, rubber threads, rubber bands, soft tennis balls, erasers
Others
lubricant oil additives, adhesive tapes, purge agents for resin, other kinds of cleaners, etc.
> TOP